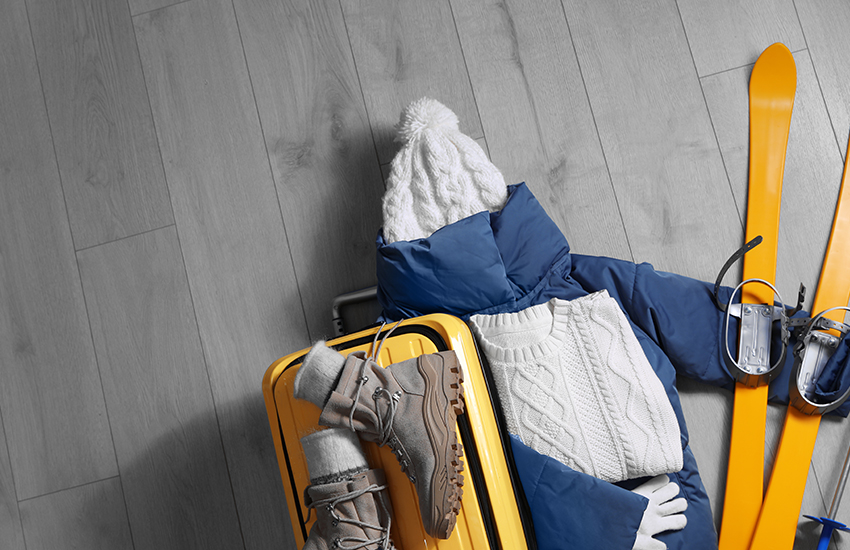 Bulky, heavy, cumbersome – no matter how you spin it, flying with skis and boots is a real hassle. While you may master the "art" after dozens of trips from your home to the slopes, we're here to let you know that there is finally a better way. From packaging tips to shipping ahead, here's everything you need to know to relieve the stress of flying with skis and boots.
Flying with Skis and Boots Just Got Easier
Unfortunately, the airport won't wrap your skis for you. So before jetting off on your winter getaway, you'll need to purchase a soft travel bag or hard case for your skis or snowboard. Regardless of your choice, you'll also need to add some additional protection inside of the bag when flying with skis and boots. Vulnerable parts of your skis like bindings, tips, and tails should be wrapped in bubble wrap or packing paper. Any kind of buffer to take the brunt of an outside force to the skis is an absolute must. Most travelers include ski boots in their carry-on; but, if you've run out of space, you'll need to purchase a separate bag for your boots, too.
How much will flying with my skis or snowboard cost?
The cost of flying with skis, snowboards, or boots will vary depending on the airlines' baggage fee policies, frequent flyer status, and more. Some airlines offer a free first checked bag, which would allow flying with your skis and boots at no added cost. In this case, separate ski bags and boot bags are often accepted as just one checked bag. Other airlines may charge oversized baggage fees that will require you to shell out additional dollars. Finding out the exact amount you can expect to pay when flying with skis and boots will require some research which we recommend completing before booking your flights.
What else can I put inside my ski bag when flying with skis and boots?
Simple answer? It depends on the airline. In some instances, you may be able to squeeze an extra pair of skis or boots into one bag and not have to pay extra fees. But, it's generally best to pack lightly and leave out what you can to avoid any financial surprises at the airport.
Where can I expect my skis and boots to be when I land?
In most cases, your winter equipment will be waiting for you at the baggage claim. Sometimes your gear may be in a specified oversized luggage area. If you're flying with skis and boots internationally, it may get a little trickier. Rather than assuming your gear will make the connecting flight, you may have to collect your bag and re-check it. It's best to confirm with your selected airline what procedure you should follow.
How can I make it easier flying with skis and boots?
The best way to handle flying with your skis and boots is to not do it. But, this doesn't mean leaving your equipment at home! Thanks to specialty shipping services, like Ship Skis, you can send your winter gear and luggage directly to the slopes. Rather than flying with your skis and boots, Ship Skis will pick up your gear right from your doorstep so you can avoid carrying, checking, and claiming baggage at the airport. An on-time delivery guarantee ensures your skis, snowboard, snow boots, and luggage will be awaiting your arrival at your destination.
Ship Skis also services 180 countries across the globe. With a team of international specialists, Ship Skis will handle all customs paperwork on your behalf. Unlike flying with skis and boots, you won't have to worry about your gear making or missing your connecting flight.
Learn more or get a free quote and start shipping your skis, snowboard, snow boots, and luggage today!